WebWize is pleased to announce the launch of BigHTransport.com. Big H Transport is an Oilfield Transportation provider. Many in the Oilfield business refer to this service as Hot-Shot Delivery.
With the increased Oilfield related business here in Texas, it was important Big H Transport's web presence reflected their business in the best light possible. It had been years since their website was updated. It needed a face-lift in a big way!
One of the first questions we asked was concerning search engine optimization. Since SEO was not a concern for their business, bightransport.com was a perfect candidate for one of the today's biggest web trends, a single page scrolling design.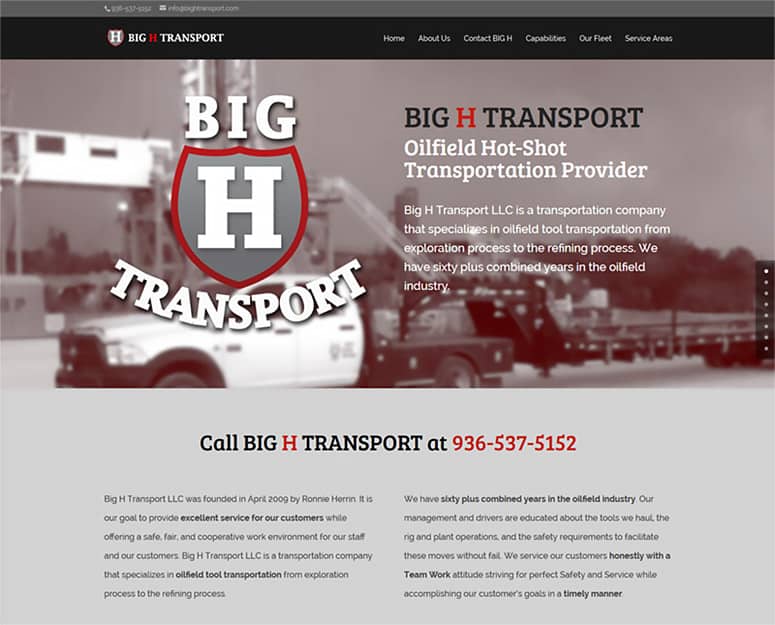 Some of the features within the Big H Transport site are content management (CMS), single page scrolling, floating right-side navigation module, parallax effect, HTML 5 image transitions, contact form and Google map integration.
Besides, the condition of their logo was not usable for the new web design.  As with many logos, it was only available in .jpg and .gif formats; you could hardly recognize the logo due to the number of scan generations.  After an update and redesign in Adobe Illustrator raster format, their logo is now reproducible on anything from business cards to billboards.
Big H Transport is also utilizing the email services here at WebWize.
If you have a need for Oilfield Transportation or Hot-Shot services, call Big H Transport at 936-537-5152. Alternatively, visit their site at http://www.bightransport.com.
Or Contact WebWize At 713-416-7111
Before making a final decision on a Web Design Company, spend a few minutes on the phone with us.
Glenn Brooks is the founder of WebWize, Inc. WebWize has provided web design, development, hosting, SEO and email services since 1994. Glenn graduated from SWTSU with a degree in Commercial Art and worked in the advertising, marketing, and printing industries for 18 years before starting WebWize.