With inbound marketing, you deliver content and strategies to various places, and the traffic comes to your website. With the right approach, you'll attract highly interested candidates who become qualified leads. Some of the tactics that worked a few years ago are no longer as effective today, however. The internet — and the world itself — change all the time. For truly effective inbound marketing, you must look to the future and prepare for the trends before they arrive.
In a survey of 3,400 marketers, researchers discovered that 60% of respondents felt content marketing was either very or extremely important to their promotional strategy. At the core of inbound marketing is the content you produce, but where you place that material and how you draw people to your pages varies widely.
Before we started our article, I found an article on "What Email Marketers Need to Know in 2022."  It is a great compliment to this article.
Here are nine predictions for inbound marketing in the next five years or so. Knowing what to expect allows you to prepare for any market changes and make the most of your efforts:
1. Start With Company Goals
Your first step should be looking at your company's goals over the next few years. Figure out what you'd like to accomplish and pinpoint the inbound marketing strategies most likely to get you there. The way you reach out to new contacts may change as technology does, but the reasons for doing so remain the same. Knowing your purpose helps you adjust your strategy accordingly.
Filter everything through the lens of your company philosophy — plus where you'd like to wind up in the future. It's easy to jump onto new trends, so knowing who you are at your core prevents mistakes along the way. You'll know which opportunities to accept and which ones to leave for another time.
2. Look at Third-Party Sites
You've likely exhausted all the traditional efforts of inbound marketing such as social media and email campaigns. In the next few years, expect to see more interest from third party sites. One trend in recent months is people going directly to websites such as Amazon for searches rather than using Google first. Look for big sites related to your industry that might showcase your products or link back to your platform and drive customers toward you.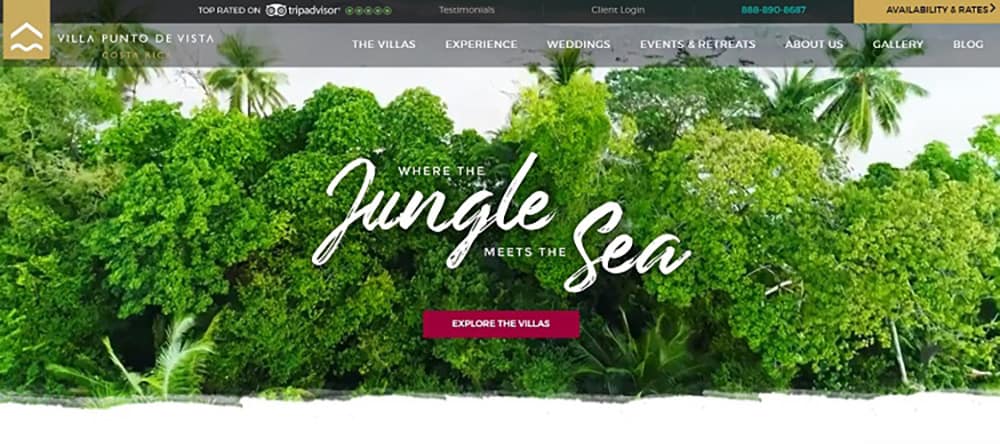 Villa Punto de Vista highlights their presence on Trip Advisor. Note their high rating on a well-respected third-party travel site. Utilizing reviews from a well-known site adds a lot of credibility to their platform. They also receive inbound traffic from Trip Advisor, helping them attract people in their core audience. There is some risk associated with having a presence on a site you don't control, so be sure you have an excellent customer service model in place before branching into this form of inbound marketing.
3. Attend Events
Attend events when you're able. Set up a booth at a trade show or hand out promotional items at a local festival. Inbound marketing doesn't always originate from online sources. You can also direct contacts from in-person meetings to your site, meshing the real and digital world into one. The more channels you reach a consumer on, the more likely they are to remember your brand name.
Make sure you get some merchandise in the customer's hands that contains your website address or a special offer if they visit your platform. Include a hashtag they should follow on social media to find out more about you. Take a photo of them buying your product and ask if you can share it online and tag them. This tactic allows you to reach their followers and expand your influence.
4. Maintain Social Presence
There are currently around 2.95 billion people using social media globally. By 2023, experts predict the number will increase to 3.43 billion. Social media is one of the most effective inbound marketing methods. You likely already have a social presence on some of the major platforms. Maintain that influence while keeping an eye on trends so you can share fresh material.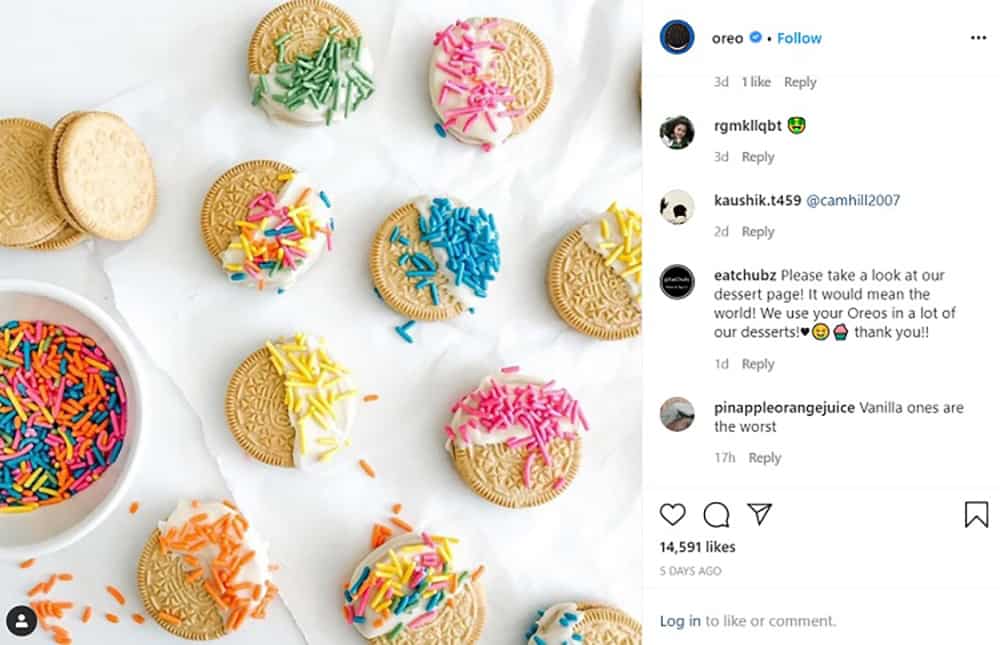 Oreo does an excellent job of finding creative ways of presenting their traditional cream-filled cookies. In the post above, they encourage using sprinkles to add some pizzazz to your cookies. One thing they don't do as well is sending traffic back to their website. Rather than listing the ingredients for cookies that include Oreo bits, they should direct people to their site for the full instructions. 
5. Go Hyper-Personalized
For the last couple years, the name of the game has been personalized content and information for users. Marketers segment their audiences, create buyer personas and send out information that a person is most likely to be interested in.
Amazon is setting the tone for hyper-personalization, though, where brands target a person's specific needs and browsing history and offer recommendations based on precise criteria. For example, if you see a customer searched for blue outdoor patio furniture and you had a shipment of blue outdoor rugs arrive, you might send a note to let them know they should pop on the site and check out your new collection. 
6. Send Emails
There are about 3.9 billion email users in the world. Experts predict that number will reach 4.3 billion — or roughly half of the global population — by 2023. Email remains an effective form of inbound marketing, and that isn't likely to change. As long as you create a list of people who are interested in what you offer, then you'll gain conversions from your efforts.
However, you should also keep in mind people get dozens of emails every day from companies trying to sell them something. Be different. Give them information, share trends with them or let them have the inside scoop on company news. Look for ways to communicate current topics of interest.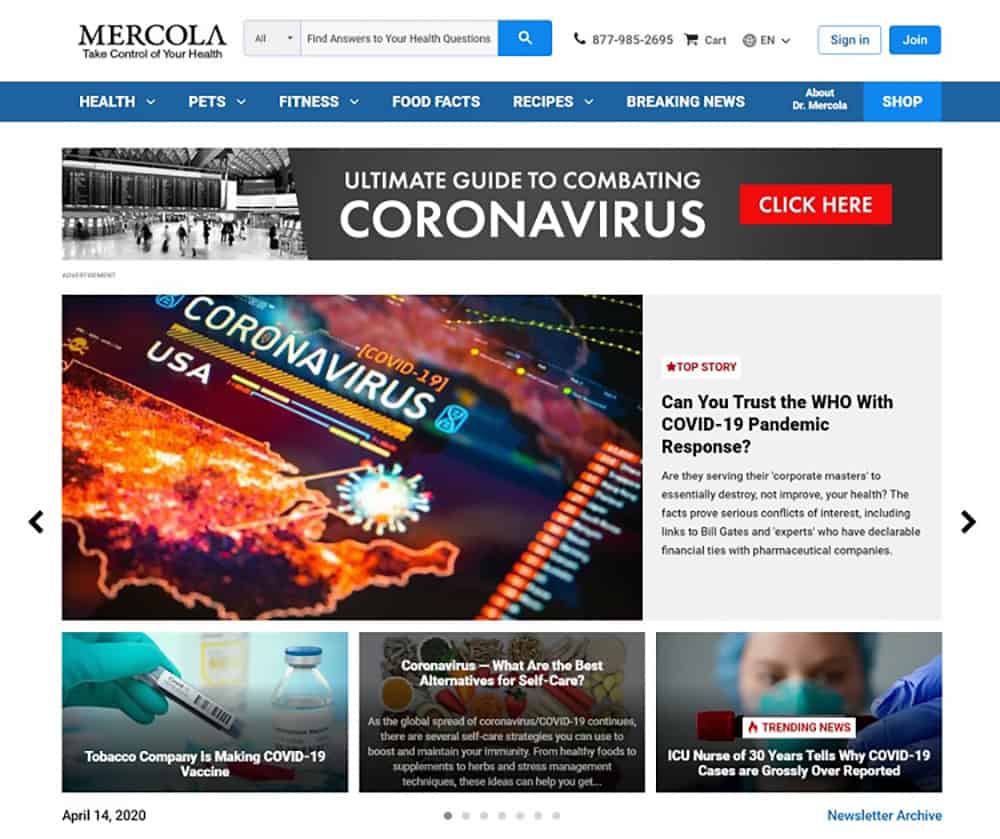 Dr. Mercola puts out a daily newsletter. His topics are very timely to world events, such as the COVID-19 outbreak, but still align with what his followers are most interested in. These subjects all surround health but tap into current news, discoveries or world events in a way that makes people take notice. 
Within his recommendations, he might list a product he sells or sponsors with a clear indication that he profits off the proceeds. Users avoid feeling tricked because he's upfront about the benefits both to him and them. 
7. Tap Into Voice Search
In a study of over 1,700 Americans, Perficient Digital uncovered that voice is the second choice for mobile searches, ranking right behind mobile browsers. As more and more people embrace smart speakers in their homes and become comfortable with their smartphones' capabilities, voice search will trend upward. Take advantage of this new form of inbound marketing by answering questions on your website and making your platform voice search-friendly.
Some things you can do to prepare for voice search are to focus on longtail keywords, hone a conversational way of speaking and work on local SEO, as many searches are location-based.
8. Embrace Video Marketing
Video marketing isn't new, but it will continue on an upward trajectory for the foreseeable future. Businesses spend about $28.9 million annually on video advertising, with an annual growth rate of 4.9% through 2024. If you aren't aware of the benefits of video for those wanting to learn more about your business or industry, you're missing out on a unique inbound opportunity.
Some of the ways you can use video to drive traffic include uploading informational videos on YouTube, livestreaming events on Facebook or posting snippets on Instagram or TikTok.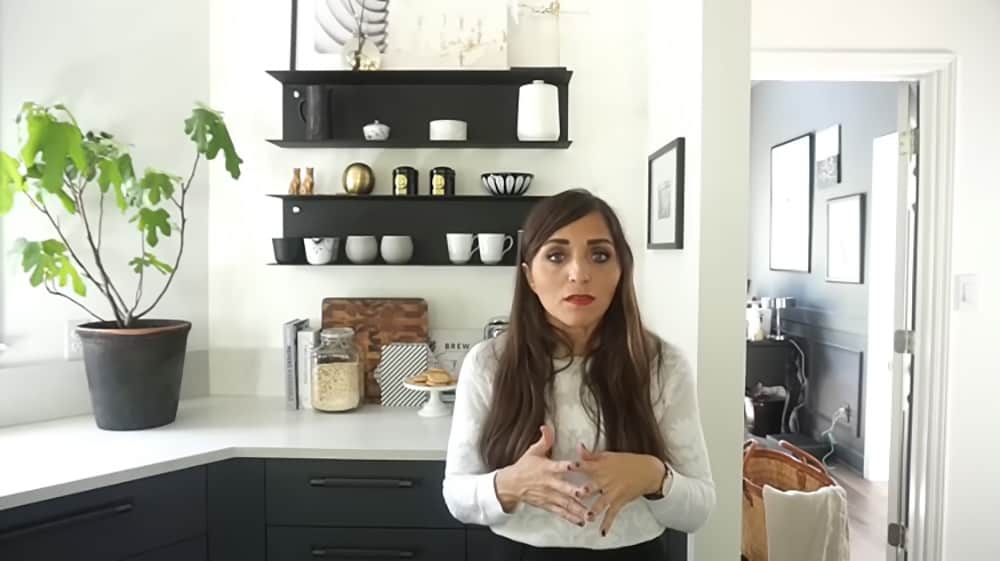 House of Valentina is a real estate and home staging company. They share tips and expertise via a YouTube channel. Videos create inbound traffic for their virtual workshops, as well as connecting them with clients who want to buy or sell homes. 
No matter what type of industry you're in, you likely have knowledge that would help your target audience. Figure out a creative way to share that information and attract them to your website in the process. 
9. Share User-Generated Content
One major change on the horizon is more user involvement in creating content. People feel emotionally invested when they see an article or series of photos by someone they know, as opposed to a random person they've never heard of. Working with influencers is one way of creating user-generated posts, articles and videos. The influencer receives compensation either in free product, payment or both. They then promote your brand on social media or to their mailing list, encouraging people to go to your site to learn more.
Another tactic is contacting your top customers and asking them if they'd like to share their favorite tips for using your product or service. Record them or place a written piece on your website. Once it's published, ask them to share with their family and friends. You'll generate traffic, and people will hopefully share the link, helping it spread.
Be Open to Changes
Where inbound marketing might go in the future is impossible to predict fully. We can look at trends and know some tactics will remain effective. Some mediums are sure to become more popular based on expert predictions. However, new technology changes the way marketers promote, and you never know what is on the horizon.
Societal changes may also have a significant impact on the way you promote your business in the future. As the world changes, companies must adapt or risk falling behind the curve. Stay on top of current technical trends, prepare to change things up when needed and listen to your customers to tap into their wants and needs. With a bit of foresight and flexibility, you can develop successful inbound marketing techniques to take you through the next five years and beyond.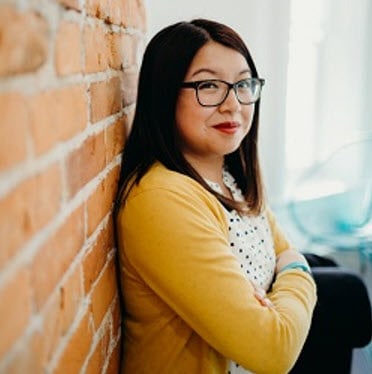 Lexie is a digital nomad and web designer. If she's not traveling to various parts of the country, you can find her at the local flea markets or hiking with her goldendoodle. Check out her design blog, Design Roast, and connect with her on Twitter @lexieludesigner.
Or Contact WebWize At 713-416-7111
Before making a final decision on a Web Design Company, spend a few minutes on the phone with us.
Glenn Brooks is the founder of WebWize, Inc. WebWize has provided web design, development, hosting, SEO and email services since 1994. Glenn graduated from SWTSU with a degree in Commercial Art and worked in the advertising, marketing, and printing industries for 18 years before starting WebWize.