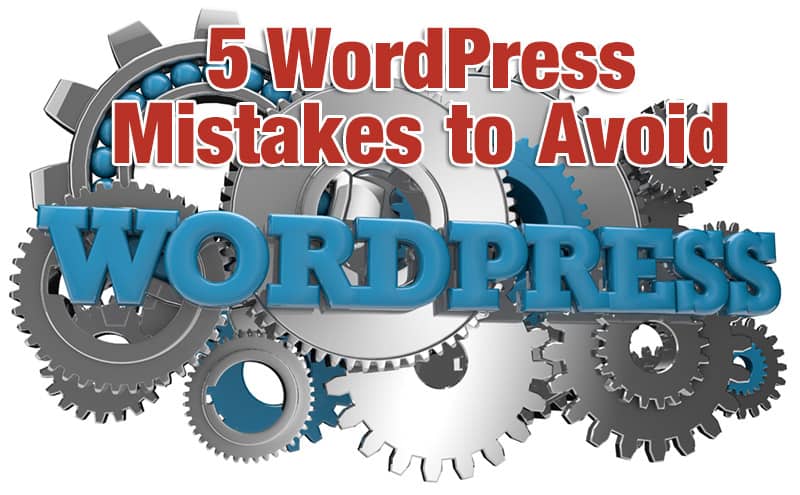 Powering over 74.6 million websites, WordPress is by far the world's most popular and widely used content management system (CMS). It offers a simple yet versatile platform on which users can build fully functional websites with little-to-no coding knowledge. To get the most of this ultra-powerful platform, though, you'll want to avoid making the following mistakes.
#1) Default Permalinks
One of the most common mistakes beginners make when launching a WordPress site is failing to set up a search engine-friendly permalinks. By default, all new posts and pages are given a numerical URL structure, such as http://www.yoursite.com/?p=123. This may not cause any immediate problems, but it's not going to help your site's search engine rankings, nor is it appealing to visitors.
To change this, log into your site and access Settings > Permalinks > and click choose the option labeled "Post name." All new URLs will now contain the post or page's name rather than a string of number.
#2) Wrong Type of WordPress
There are two different types of WordPress: the hosted version at WordPress.com and the self-hosted version at WordPress.org. Granted, both versions are free, but the self-hosted version offers a higher level of freedom when customizing your site. If you are serious about building a blog or website, stick with the self-hosted version of WordPress.
#3) 'Admin' Username
WordPress gives you the option to choose your own username during the installation process. Most bloggers and webmasters, however, stick with "admin," which subsequently places their website at risk for malicious attacks. If a hacker knows your username, he or she must only crack the password to gain access to your site.
Choose a unique (not "admin") username when installing WordPress. If your WordPress site is already up and running, you can create a new username, give it admin privileges, and then delete the old "admin" user.
#4) Using a Generic Free Theme
There are literally tens of thousands of WordPress themes available, some of which are free and others are paid. Many beginners often choose to set up their sites with a free theme, but there are a few reasons why this is a bad idea. For starters, free themes often contain site-wide footer links to the developer's website, which could funnel traffic away from your site. Secondly, studies have found that a significant portion of free themes contain malicious code.
#5) Not Adding a Contact Form
Although WordPress comes with pre-installed with several useful tools, it does not have a contact form. The good news is that you easily add one by installing the Contact Form 7 plugin or the premium plugin Gravity Forms With nearly 20 million downloads and a 4.4 out 5 star rating, you can rest assured knowing this is a safe and reliable plugin for your WordPress site. Alternatively, you can hard code a contact form directly into your site's theme, but this is a bit more technical and isn't recommended for beginners.
Glenn Brooks is the founder of WebWize, Inc. WebWize has provided web design, development, hosting, SEO and email services since 1994. Glenn graduated from SWTSU with a degree in Commercial Art and worked in the advertising, marketing, and printing industries for 18 years before starting WebWize.