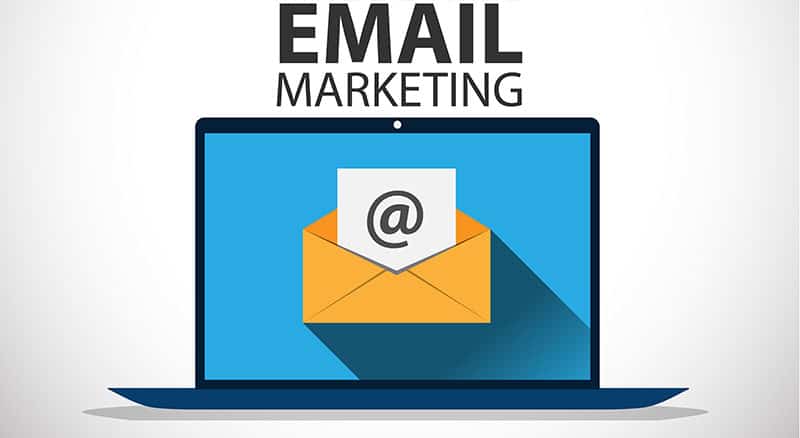 Did you know that 77% of consumers prefer to receive their marketing communications through email? Nowadays, email blows most other marketing tactics out of the water, considering people get quickly frustrated when seeing, reading or hearing ads on TV, radio or even while wasting time on social media.
The stats show that email marketing has been, and proves to remain, one of the strongest ways to reach out to your customers without ticking them off.
How do you embrace this powerful marketing opportunity? The answer is not to start sending out mass emails from your Gmail or Yahoo email accounts. The answer is not to quickly whip up a plain text email that just tells people to buy more stuff from your store.
The answer is an email campaign system.
What Exactly is an Email Campaign System?
An email campaign system solves a few problems that come along when you want to send out a blast email to your customers. First of all, it generally provides a form to place on your website for collecting emails and managing your email list. You no longer have to write down your email addresses or punch them into an Excel sheet.
After that, you can quickly design an email that looks just as professional as something that Walmart or Best Buy would send out. Punch in which email list you want to send the message to, schedule a time/date and wait for the system to do its work.
The goal behind an email campaign system is to make the process quick and secure for everyone involved. For example, if you were to send out a blast email to 100 people through Gmail, every single person that receives that message now has the email addresses attached. In short, you end up sharing your secure customer information with a bunch of strangers. With an email campaign system all email addresses are hidden.
Not to mention, your subscribe and unsubscribe process is automated, meaning that anyone can decide to stop receiving your emails.
Why is this important?
Because forcing someone to receive your emails is illegal. In fact, sending out blast emails without an email campaign system is almost always illegal, because you don't provide unsubscription options, and security goes way down when you choose to send out with a free service like Gmail. Stick to the free services for your personal or work emails, and notify your customers with email campaign systems.
What Makes an Ideal Email Campaign System?
Each of the email campaign systems outlined below provide various features, but the most important ones generally overlap, making each of the recommendations fairly similar in terms of basic functionality.
That said, if you start doing your research on which email marketing system to use, take a look at the following list to ensure that all of the features are included:
CAN-SPAM Compliance – From misleading header information to opt-out honoring, the CAN-SPAM Act outlines everything you need to know to remain legal with your email marketing. All of the recommendations below follow the CAN-SPAM Act, but if you choose another service, make sure you check in on this.
Email templates – The best services provide extensive databases filled with professionally designed templates. Choose a Christmas or event-themed template and just punch in your own details.
Easy development – Look for drag and drop editors so you never have to touch a line of code. The point is to quickly design your emails and send them out without having development knowledge.
Bounce handling – You don't want to mess around with the list of bad/old email addresses. With bounce handling the service collects these emails for you and generally removes them from your list.
Mobile responsive designs – Google has told us that they give favor to companies that use responsive website designs, and it's clear that consumers also respond best when emails are designed for mobile devices. In fact, 53% of emails are opened on mobile devices, so this is a must-have.
Subscribe and unsubscribe options – Let people sign up to receive email notifications from you. The unsubscribe button at the bottom of all emails is equally important.
Form building – No one wants to sign up for your email list unless it looks appealing. Find a service that lets you get creative with your signup forms and place them on your website.
Automated campaigns – From automated birthday emails to messages that go out when someone signs up for your email list, automated campaigns run your marketing process when you don't have the time.
Clean email stats – Email open and click through rates show you how well your email campaigns are performing. The best services provide detailed graphs, numbers and information on in-depth stuff like which days of the week are best for sending out emails.
Subscriber profiles – See the names and preferences for all of your subscribers. Top email campaign systems share information on where the subscribers live, what operating systems they use and which people are most loyal to your brand.
Personalization – Can you address your subscribers by name? Since personalized emails deliver six times higher transaction rates, this is something to look for.
Testing tools – The ideal situation is to have the tools to see which times and dates are best for sending out emails. You also want A/B split testing to view which subject lines and email components work best for your customers.
Scheduling features – Some email campaign systems allow for you to schedule an email for the future, letting you plan your email schedule and forget about it for the next week or month.
App integrations – These integrations empower you to complete just about anything with your email campaigns. From eCommerce syncing to customer relationship management system integrations, these apps help you customize like you would with an iPhone and the iTunes app store.
Subscriber segmentation – Sending out a Ladies Night email to your male subscribers is just silly. Subscriber segmentation brings target marketing to your organization.
Now, without further ado…the best email campaign systems for your business:
Pricing
Entrepreneur Plan – Free for up to 2,000 subscribers and 12,000 email sends per month.
Growing Business Plan – Starting at $10 per month for up to 500 subscribers and unlimited email sends. Most businesses start this plan when they reach the 2,000 subscriber mark, which costs $25 per month. They have a tool here to calculate your rate.
High Volume Sender Plan – This starts when you have over 80,000 subscribers and want to send out millions of emails each month. The monthly cost starts at $425 per month, but the most popular one is $475 per month.
Top Features
See engagement, website activity and more for every single subscriber on your list.
Add notes and one-to-one conversations in the customer profile so you can remember who everyone is.
MailChimp provides one of the best email template libraries on the market.
MailChimp has a drag and drop interface, and most of the email templates are mobile responsive.
The service offers free guides for you to foolproof your email marketing strategy and even learn things about spam filters and social media.
Generate automated emails for birthdays and when people sign up for your list.
Segment your lists based on subscriber preferences and interactions.
MailChimp has tools for seeing when the best time is to send, which subject lines work best and which of your subscribers to target more often.
Collect signups from a tablet with Chimpadeedoo.
Design and send your emails from your computer, tablet or phone.
Best for Those Who…
We like MailChimp the best for companies that are just getting started with email marketing. Since you don't have to pay a dime for the service until you hit the 2,000 subscriber mark, it's somewhat of a no-brainer for beginners.
Once you get past that 2,000 mark the service is reasonably priced, and it's known for having wonderful design tools and high delivery rates. Larger companies enjoy the collaboration features, and everyone can benefit from the customization tools. The only reason you may want to stray away from MailChimp is if you really want to get in there with your own code.
Click here to try out MailChimp.
Pricing
You receive a 30-day free trial, and all of the plans let you import as many subscribers as you want. The free trial is limited to 500 subscribers, but once you start paying it opens up to larger lists. You can also send unlimited emails.
Monthly Plan – $19 per month.
Quarterly Plan – $49 per quarter.
Yearly Plan – $149 per year.
Top Features
Send a sequence of autoresponder emails, allowing for the system to run without you having to check in with it. For example, you can send out a free eBook when someone signs up for your list or send out a new email every week with helpful tips about your products.
View your email deliverability rates, empowering you to make future content decisions based on what people enjoy.
The AWeber customer service is some of the best in the business.
Build your own signup forms (all of them mobile responsive) and place them on your websites within a few minutes.
You receive access to over 700 HTML email templates, and all of them look pretty darn nice.
Automatically generate emails from your most recent blog posts.
The drag and drop editor is perfect for people who don't want to spend tons of time designing.
All email templates are responsive.
AWeber integrates with various apps like Facebook, PayPal, Etsy and Privy.
Segment your subscribers based on how they respond to your emails and what their demographics are like.
The Atom App is a way for your to bring up a subscription form on tablets and other mobile devices.
Best for Those Who…
AWeber has a much easier pricing system than MailChimp, and it offers high delivery rates and incredible automated campaigns. If you want to set up automated emails, then AWeber is a solid choice. It's also nice if you don't want to worry about your rates going up a bunch while your email list grows.
Pricing
iContact comes with a 30 day free trial.
iContact Plan – This starts at $14 per month for 500 contacts. It jumps to $32 per month for 2,500 contacts, and goes all the way up to $117 per month for 15,000 contacts. You can always pay a monthly upfront fee to decrease your costs.
iContact Pro Plan – This provides additional tools like segmentation and impact/comparison reports. It starts at $99 per month for 2,500 contacts, and goes all the way up to $369 per month for 25,000 contacts.
iContact Premier Plan – With this plan you receive everything that comes along in iContact Pro, but you also get items like high volume sending capacity, expert marketing strategies, design services and more. Contact the company to learn about pricing.
iContact for Salesforce – This plan integrates directly with yourSalesforce customer relationship management system, but you must contact iContact for a quote.
Top Features
Leverage what you know about your contacts and segment them to make your messages more effective.
Track engagement with the in-depth stats that come along with your subscription.
Create high converting landing pages to link your email to.
Integrate with your CRM.
Posts your emails and conversations on all social networks.
Assign points to each of your customers to gauge how much money they can actually make you.
Choose from over 600 professionally designed HTML email templates.
Use simple autoresponders for automating your marketing.
You receive responsive email templates.
Track how much people are engaging on social media.
Sync with Google Analytics.
View impact and comparison reports.
Best for Those Who…
If you heavily use the Salesforce CRM platform, I would recommend looking into the iContact Salesforce plan. The pricing is on par with most other platforms, and if you would rather focus on running your business, as opposed to designing emails, iContact has a team of experts that is willing to provide advice or even help run your marketing campaigns.
Click here to try out iContact.
Pricing
Constant Contact gives you a 60 day free trial to send out emails to a limited group of contacts.
Email Plan – This plan starts at $20 per month for up to 500 contacts, but you can also move up to a few other plans that end up at $85 per month for up to 10,000 contacts. You must call the company to figure out pricing for anything higher than that.
Email Plus Plan – Starting at $45 per month for 500 contacts, this plan goes up to $110 per month, but you get everything included in the Email Plan, plus other features like a template with your logo and colors, automated emails and more.
Top Features
Edit and create your own emails with the drag and drop editor.
Send coupons to drive more sales.
Create emails that include event registration tools.
Store and present your own images.
Choose from hundreds of professional templates.
Manage your contacts with ease.
Automate your emails with messages to VIPs, birthday members and more.
Land 98% of your emails in customer inboxes.
Track and manage reports with numbers like bounces, opens and clicks.
Keep track of your event registrations.
Integrate with loads of apps.
Quickly share your messages on social networks like Facebook and Twitter.
Best for Those Who…
We like Constant Contact for those companies that plan on holding lots of events, since the event management and email system is rather intuitive. Contact Contact customers rave about the simple features, so it generally gets a nice response from people with limited design or marketing experience.
Click here to try out Constant Contact.
Pricing
GetResponse doesn't really have any set plans, so you choose based on the size of your list. Start testing the system with a 30 day trial, then move onto the smallest option at $15 per month. This supports up to 1,000 subscribers, and you can always decrease this rate by paying for a full year upfront.
The most popular plan is $25 per month for 2,500 subscribers, and it goes all the way up to $450 per month for 100,000 subscribers. They also provide high-volume plans if needed.
Top Features
Create your own landing pages to improve sales through your emails.
Choose from hundreds of sleek templates, which are all designed for the mobile interface.
Use A/B testing to figure out the best subject lines, time to send and more.
The autoresponders work well for sending out birthday messages, customized offers and follow-up cycles.
GetResponse has a fairly powerful drag and drop editor.
Make smart decisions with reports that include information on site conversions, follow-ups and hourly fluctuations.
GetResponse has one of the best form builders on the market.
Best for Those Who…
GetResponse works for any small to midsize business just getting started with email marketing. The import tools are nice if you already have a list, and I would say that the best feature is the pre-designed forms. If you are hard pressed to build that list quick, this is a good service to help you with that.
Click here to try out GetResponse.
That's it! Let us know in the comments section if you have any questions about how to choose the perfect email campaign system for you.
Or Contact WebWize At 713-416-7111
Before making a final decision on a Web Design Company, spend a few minutes on the phone with us.
Glenn Brooks is the founder of WebWize, Inc. WebWize has provided web design, development, hosting, SEO and email services since 1994. Glenn graduated from SWTSU with a degree in Commercial Art and worked in the advertising, marketing, and printing industries for 18 years before starting WebWize.