No business owner has ever come to us saying they want an average website or even one that was "pretty good." They turn to
our web design and development team
because they want the best – a layout that's functional, interesting, and easy to understand, along with an
online marketing plan
that helps them bring in buyers from the web month after month.
However, we can't guarantee these results on our own. We certainly do good work and can point clients in the right direction, but there are some things they have to provide or agree to if their websites are going to amount to something special.
Whether you realize it or not, the details and finishing touches to your business website can add significantly to its value. Or, if you want to think about things from the other side of the coin, you can actually diminish the usefulness of your new website by overlooking some minor points.
To give you a better sense of what we mean, and point you in the right direction when it's time to bring your new layout to life, let's look at seven ways you can make a good website great…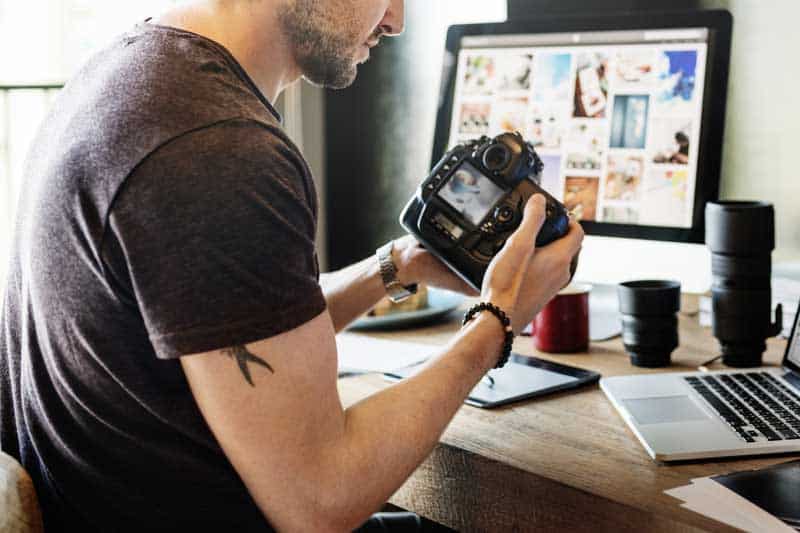 #1 Add Better Images
Have you ever seen someone pour ketchup on a fine steak? That's how we feel when clients use outdated or low-resolution images to finish the websites we build for them.
People tend to process pictures much faster than they do text. For that reason, the visual elements on your website tend to stand out and make an impression more than things like headlines do. Visitors make snap judgments about your quality and credibility in split seconds, all because they notice your photos look great or leave something to be desired.
It's never been easier or less expensive to get high-quality pictures for your website. You can hire a professional to get good shots of your team, location, and products or equipment. It's a small investment of time and money, but one that can make an enormous difference on the marketing power of your website.
#2 Clean Up Your Content
If high-quality images are the key to grabbing attention, then strong content (and especially copywriting) is needed to seal the deal when you're trying to generate conversions.
This isn't a difficult concept to explain. No matter how impressive your web layout might be, eventually you'll need some kind of messaging to convince buyers to take the next step. You'll have to show them how your products or services are different than the competition, or what you can offer that others can't. Some of that can be accomplished with pictures or video, but your written content is usually going to have to do the heavy lifting.
Whether you decide to work with a professional copywriter or generate content on your own, it's important that the words on your website be clear, accurate, and free from spelling or grammar mistakes. Your professionalism is on the line, and you won't get a chance to recover from a poor first impression.
#3 Post Some Videos
Given that we just stressed the importance of written content, it might seem a little contradictory to bring up the marketing power of online video. The truth, though, is that even though the written content is irreplaceable on your business website, video clips add something special that plain text can't.
There some things you can share with video – like product demonstrations, how-to guides, and customer testimonials – that have more power when they are seen than described. Additionally, studies show that well-produced videos are more memorable than text. That's not so surprising when you consider we are a society of television YouTube watchers rather than dedicated readers. So, you might be able to use clips to grab and maintain your customer's attention.
The other reason to use video on your website is that it has gotten to be much less expensive in recent years. Prices for cameras, lighting, and editing software have come way down, to the point that even small businesses can produce broadcast-quality materials with the right tools and editors on their side.
#4 Invest in Faster Web Hosting, Business-level Web Hosting
Although it's something a lot of business owners and executives tend to overlook, hosting is to your website what tires are to your car. Just like engine speed and torque don't matter if you can't grip the road, even the best website won't attract new sales if it loads slowly.
Premium web hosting packages add to the monthly cost of maintaining your website but deliver a great deal in return. A good hosting plan means your pages load more quickly, you have better data security, and get access to automatic backups in case you need to restore your site. You may even be able to add new tools or features like SSL connectivity that encrypts data transfers.
The best part is that upgraded web hosting costs very little – in most cases just a few dollars per day. Given that it does so much for your website performance, why wouldn't you make the choice for a faster and more reliable web presence?
#5 Make Your Navigation Cleaner
Any business web designer worth their salt is going to propose a navigation system that is clear and intuitive. As a client, though, it's up to you to ensure visitors to your website can easily move from one topic or page to another.
When you are first planning a website or looking at mockups, it's easy to assume a potential customer will arrive at your home page, click on the tab that corresponds to their need or interest, and eventually end up at the destination they were looking for. However, when you study web analytics you find this rarely happens. Instead, visitors enter your website through odd pages that were indexed by Google or backtrack frequently when they become "lost" in your content.
When you have a good navigation structure in place, buyers will have an easy time finding what they want. When you don't, they are apt to become frustrated and take their business elsewhere.
#6 Improve Mobile Functionality
Mobile computing has become such a big part of our world that we advise clients to upgrade or improve their existing websites if they aren't compatible with phones and tablets. More than half of all internet traffic originates from these devices, and even more, customers will be using them in the near future.  Not to mention mobile responsive sites help with your listing in Google.
However, while mobile compatibility might be the first requirement for a new website, you shouldn't stop there. There are lots of things you can integrate into your pages that actually make it easier for mobile users to see your content and do business with you. For instance, even after you've opted for a responsive web design, you could add radio buttons, drop-down menus, click-to-call features, and smaller images.
None of these changes make it more difficult for desktop or laptop users to access your site, but they can take away the sense of frustration buyers on mobile devices might feel when visiting your competitors.
#7 Use Plug-ins and Programming
Although we have included this point last, the programming side of your website should be one of the first things you consider. That's because you can use plug-ins, or even custom software, to make your business run more smoothly.
Many of the new clients we meet with feel overwhelmed by the competition they face on the web. That's understandable, but the upshot is that more websites mean more tools that are continually being developed. We've reached a point where you can find a WordPress plug-in for almost anything. It used to be expensive to add features like shopping carts, currency converters, or database management tools to your pages. Now you can get any of these for a very low price.
Talk to your web design partner about the things you want your website actually do. They can help you find the right applications for the job and make your site much more valuable as a result.
Ready for Web Design and Online Marketing That Delivers More?
Did you find this article because you're searching for better answers when it comes to your web design and online marketing campaigns? If so, you should know that the WebWize creative team is here to help. We've been working with clients in Houston and throughout Southeast Texas for nearly 2 decades. Contact us today to schedule a free consultation and see how we can help your business grow!
Or Contact WebWize At 713-416-7111
Before making a final decision on a Web Design Company, spend a few minutes on the phone with us.
Glenn Brooks is the founder of WebWize, Inc. WebWize has provided web design, development, hosting, SEO and email services since 1994. Glenn graduated from SWTSU with a degree in Commercial Art and worked in the advertising, marketing, and printing industries for 18 years before starting WebWize.